THE SONJA SOHN SITE
Smart, Sassy, Sexy




She currently stars in HBO's hit new series, The Wire, Sundays @ 10pm. This is not your ordinary cop show... often blurring the line between right and wrong, it follows and portrays the point of view of both cops and the drug dealers they are investigating. This may be the most realistic law enforcement drama ever created.
Sonja Sohn plays a young narcotics detective named Shakima Greggs. Kima also happens to be a lesbian who is in a committed relationship with her live-in partner. Scenes between the two of them softly complement her tough-as-nails demeanor at work. Not only is The Wire one of the most unique and compelling shows ever made, but it even includes positive and realistic representation of a lesbian character who is integral to the show's main plot.
Yet something very serious happens to Kima which may compromise her status on the show... but I won't give away any spoilers! You'll just have to see for yourself.
She also appears in these movies:
"The Killing Zone" - According to the IMDb, this indie film is still in production. This link was all I could find about the movie, but at least there's a picture!
"G" (2002)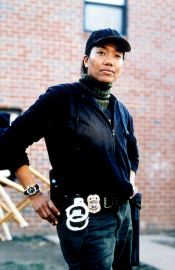 "Perfume" (2001)
"Shaft" (2000)
"Bringing Out the Dead" (1999)
"Getting to Know You" (1999)
"Bronx County" (1998, TV-movie)
"Slam" (1998) - She also co-wrote Slam.
"Work" (1996)
I also heard that Sonja Sohn was a spoken word artist/poet before she became an actress, although I have been unable to find any other information :(
Please share what you know!